The Questa area stands in contrast to the resort towns on the east side of the mountains or the plethora of B&B's and hotels in Taos.  The accommodations we are famous for are our world-class camping sites.  As of summer 2016, we have one traditional motel and one site with charming cabins:
---
Cabresto Cabins
Genuine log cabins in Cabresto Canyon bordering the National Forest.  Great for families and groups, sleeps 4-9 guests.  Nightly and weekly rentals average rates from $133.00.
Phone 575-779-7037. (see on VRBO.com, property #806035)
---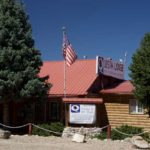 The Questa Lodge is located on Lower Embargo Rd., one easy turn off the main rd. (hwy 522) on the south end of town.  They offer RV hook-ups, and cabins that range from cozy to family-size in a park-like setting by the Red River.
Phone 575-586-9913.  www.Questalodge.com.
---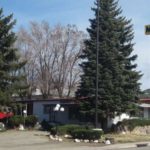 The Sangre de Cristo Motel has stood near the traffic light in the center of Questa for many years.  If offers affordable, basic rooms with a very genuine retro feel.
Phone 575-586-0300
---
There are also a couple short-term rental houses for travelers to the area.
Vacation Rentals By Owner lists two lovely houses on the east side of Questa through www.VRBO.com (property #372713, and #354783).
The Kachina Motel at the south end of town is now only for longer-term motel needs (phone 770-6745).
For info re. RV Parks, see our Camping pages, and also our Business Directory.
*****
The place for many choices in fine dining is Taos, just a half-hour to our south.  And Red River has fine family choices 20 minutes to the east.  Questa, however, is known for its hole-in-the-wall eateries with their loyal clientele, and our new cafe in the middle of town!
---
The Wild Cat's Den had been a casual favorite for decades; with burgers, New Mexican dishes, and new creative salads. Open Monday-Friday, 11a-7p.  Sat. 11a-5p, closed Sunday.
Phone 586-1119.
Deb's Deli, in the Questa Center Supermarket, offers everything you need for a fun picnic or a fast lunch.  Custom-created sandwiches and salads to eat in or take out, located right by a great selection of fresh fruits.  Open 7 days/week, 8a-6p. Phone 586-0233.  i-net.
Primetime Pizza
Pizza, calzones, and sandwiches; in the center of town.  Open Tuesday-Friday 11a-7pm, Saturday/Sunday noon-7pm.  Phone 586-2328.
Village Stop & Go
Snacks, slushies, pizza-by-the-slice, nachos.  I-net café. Phone 586-0696.
My Tia's café   (in Cerro)
New Mexican specialties, located north of Questa on highway 378.  On the road to the Rio Grande del Norte National Park.  Mon., Thrs., Fri. lunch and dinner.  Sat., Sun. breakfast, lunch, dinner.  586-2203