Questa Fire and EMS provides 24/7 ALS/ ILS ambulance service to the Village of Questa and the Northern Portion of Taos County. The Village of Questa consists of 14 square miles, and the Northern portion of Taos County consists of the remaining 700 square miles.
The population that we serve is approximately 4,500 people however, that varies during the various seasons. During the summer, fall and winter moths we expect large tourist populations that pass through or come for various activities such as summer fun, hunting, and winter activities such as snowmobiling and skiing. The other coverage areas include the small communities of San Cristobal, La Lama, Cerro, El Rito, Latir, Sunshine Valley, Costilla, Amalia, Ventero, and Questa. Also included in this area is the former Chevron Mine, Valle, Vidal wilderness area, Latir wilderness area, Rios Del Norte National Monument, Carson National forest, and Bureau of Land Management lands. Without the services provided by Questa Ambulance the 4,500 constituents would be waiting anywhere from 45 minutes to upwards of an hour for the emergency service from Taos to aid them in their time of crisis.
On staff we currently have 3 EMT-Paramedics, 10 EMT- Intermediates, 12 EMT-Basics, 1 EMT- First Responder and 7 EVO's. Currently we are staffed for 10 hours during the day from 8am and 6pm. After 6pm we rely on volunteer responders. During the weekends from Friday at 8am to Monday 8am we have 24-hour coverage. In service we currently have 2 ambulances our oldy but goody (2396) a 1997 F-350 and a 2012 F-450 (2387) which was graciously donated by Taos County. February 3, 2020 we will be welcoming our 3rd Ambulance to add to our fleet it will be a 2019 (F-450). Along with EMS services we also provide HAZMAT, Rescue, Wildland and Structural fire suppression.
---
News from Questa EMS
Show us your house number!
Help us find you when you need us ...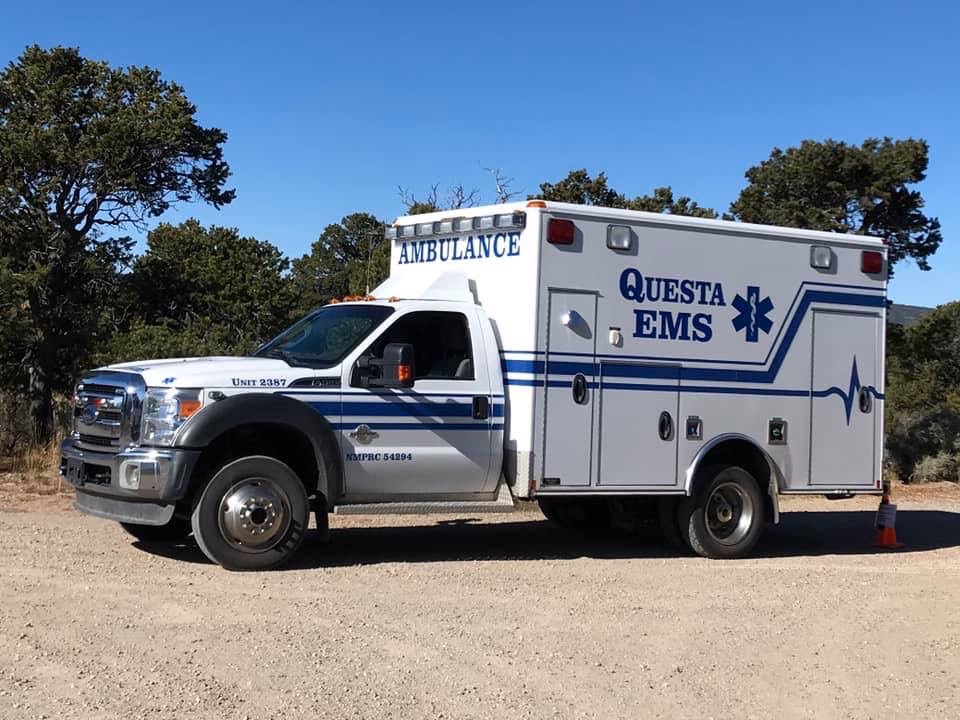 EMS Coordinator:  Raynelle Cordova
Email:   rcordova@villageofquesta.org
Phone: 575-997-7297
 Address:  2500 State Highway 522
Questa, NM 87556    (Located next to the Questa Police Department)
Non Emergency Phone: (575) 586-0250
For Emergency Dial 911
For questions concerning an ambulance bill, you may contact the Emergency Medical Services Division during our normal office hours – Monday through Thursday, 8 am to 6 pm – to speak with a representative. If a representative is not available, please leave a detailed message and your call will be returned within two business days.
Phone Number: 575-586-0250
Raynelle Sanchez- Cordova
EMS Director
EMT-Paramedic
Billing Specialist