When the weather cools and ribbons of orange aspens run down the mountainsides, the locals take to the hills… Come join them!
---
Cabresto Canyon
The hills and meadows of this canyon are ablaze with autumn color, and day-long hikes are no longer hampered by heat or thunderstorms.
The 10-mile roundtrip to Heart Lake, starting from the Cabresto Lake parking lot is a beautiful favorite.
Our Carson National Forest drapes around the east side of our village and offers many trails and campsites.
---
Rio Grande del Norte National Monument: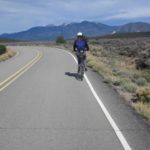 The steep climb out of the river gorge at the Wild Rivers area of the Rio Grande del Norte National Monument is now a joy in the crisp air, and camping here off-season can be a cozy adventure.  S'mores over a campfire anyone?
The Spring and Summer winds have calmed by September, and cycling or rollerblading on the scenic loop road is a popular outing.
Mountain biking on all our forest trails is wonderful this time of year.
---
In Autumn, big game hunters hike or ride horseback into our National Forest land for access to the more remote forests and meadows that are free of hikers.  The Fish and Game Department has all the details you'll need.  Find more  information HERE..
When the snow arrives; our trails become an adventure for cross-country skiers.  The flatter trails at Wild Rivers do not hold the snow for long, but are stunning to play on while they do!  Cabresto Canyon is at a higher elevation with more tree coverage.  The road is plowed only to the end of the residences; beyond that, snowmobiles can zip through glistening meadows.
Those seeking quiet beauty strap on their snowshoes at the Columbine Canyon trailhead on hwy 38 ten minutes east of Questa and enjoy short or even very long hikes by the icy creek.
.
The last few winters have brought a couple extended bouts of extreme cold; and the ice-fisherman welcome this chance to stay close to home and fish our small Eagle Rock Lake right in town or ventured up to Cabresto Lake.
Winter no longer brings constant precipitation and crisp scenic hiking or biking often continues to draw nearby visitors to our mountains and river gorge all year round.
---
Get away from the crowds!  Discover Questa in Fall, Winter & Spring.
For more information; phone the Questa Ranger District of the Carson Nat'l Forest, M-F, at 575-586-0520, open year round.  And the BLM Wild Rivers Visitors Ctr. at 575-586-1150 (reduced hours off-season, but informative phone messages posted).