¡Bienvenidos a Questa!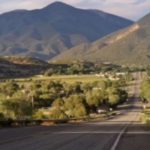 Questa NM is renowned for the beautiful scenery surrounding our small, historic village. This is where you will find the rare trails into the Rio Grande Gorge, trout fishing for every skill level, and mountain lakes with trails that access the highest reaches of the Sangre de Cristo Mountains overlooking the area. In addition to our famously serene camping and stunning hikes, there are many choices for your own cycling, mountain biking and horseback excursions.
Sitting at 7,500 ft., Questa is the northern gateway to the Enchanted Circle Scenic Byway that surrounds the highest peak in New Mexico. Our village stands in contrast to the resort towns on the east side of the mountains.
A half-hour north of Taos, we are one in a long string of small, historic towns that scattered up the Rio Grande from what is now Mexico into southern Colorado in the 18th and 19th centuries. Questa was officially founded in 1842. A rough and remote location, it was vulnerable to raids by Ute natives for generations.  The Spanish Frontier heritage is still palpable.
We remain a remote destination, though we do have a small airstrip, and are only a scenic half-hour's drive north of Taos. Taos is the place to be for fine dining and Native culture, and Red River, twenty minutes to our east, is busy with family-oriented amusements. But Questa is the getaway for full immersion into the natural beauty of New Mexico! Even on Memorial Day, when the Enchanted Circle fills with bikers, we offer the solemnity of our thousand-flag healing field beneath a silhouette of snow-capped mountains.
Questa is located adjacent to the heart of the new Rio Grande del Norte National Monument. This 'Wild Rivers' area is where the Red River that glistens behind our town joins the Rio Grande in its deep and dramatic gorge. Without its fill of alluvium, this rift would be 6 times deeper than the Grand Canyon.  It ripped through the Taos Plateau 20 million years ago, leaving behind an unstable area full of volcanic peaks.  Those visible today north and west of Questa are 3-5 million years old.
While we have long valued being the best kept secret of local visitors, we celebrated President Obama's action in March of 2013 to protect this precious river habitat with its traditional grazing lands and stunning vistas for future generations to enjoy.
It is not only our land, but also our culture that makes Questa unique. Our thick-walled adobe church has stood at the center of our community since the mid-1800s and gave the village its original name of San Antonio del Rio Colorado. "Questa" was an Anglo attempt at simplification but became an official misspelling of the Spanish "cuesta," referring to the "inclines" on the south of town and the ridge where the old church plaza stands. Our historic church suffered a partial collapse in 2006, and is in the process of being restored adobe brick by adobe brick, utilizing the same skills that our ancestors practiced in their isolated, low-tech devotion so long ago.
So, when the snow melts and our trails once again beckon, come pitch your tent or just spend a day with us. Spring is ideal for trekking by our rushing rivers. Summer brings relief from the heat in our high-altitude forests blanketed in wildflowers. And Autumn bursts with the gold of aspens that streak ribbons down the mountains and line our mountain meadows. At every time of year, herds of elk drift silently through the nights and coyotes yip in the darkness — all of this under a thick blanket of stars.
Follow the individual sections here in our 'Recreation' tab for more specific information on Hiking, Camping, Fishing, Scenic Drives, Winter sports, and more. We hope to see you soon!
Video Credits: Niña Mia, by George Ramirez, was recorded, mixed and mastered at Bear Rock Studios in El Rito north of Questa.  Vocals by Michael Rael, percussion: Tim Long, guitar: Lorenzo Martin Martinez, harmonies: Erika Luckett. Photo of Michael: Christy Arguello.